High Fashion Style Reading Glasses with Spring Hinge- 3 for $10
High Fashion Style Reading Glasses with Spring Hinge- 3 for $10
Product Description
ON SALE FOR LIMITED TIME
3 FOR $10.00
JUST CHOOSE YOUR STRENGTH AND RECEIVE 3 GLASSES IN ASSORTED COLORS!
Available in:
Black with Red

Brown with Cream

Black with Cream
Available in +100 thru +400 in 1/4 diopter increments
Length 5.25"
Lens Height: 1.25"
Lens Width: 2"
Total Frame Length 5.25"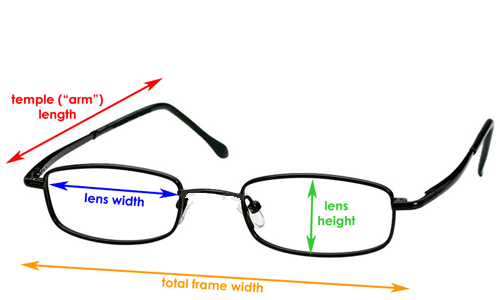 Warranty Information
Our NO NONSENSE return or exchange policy is 30 days for reading glasses, no questions asked.
Product Reviews
Great Value

Posted by Unknown on Nov 6th 2018

I really like these glasses. The spring hinge keeps them on your face during activity. Many glasses I have owned had the issue of dropping off especially with bending over. Not so with these. At the price they are, what a deal.

Excellent product - great service!

Posted by Charlie on Sep 5th 2018

I have purchased glasses from you many times. Always excellent - great value - and exceptional service. Friends think they're Prada!

Great looking readers for a great price!

Posted by Dee on Aug 24th 2018

I noticed recently that my readers we looking pretty shabby and I could probably use a stronger pair so I ordered these. They definitely help me see better and they look great.The best part is I don't feel as bad if I break or lose them because I pay so little for them, although these are not flimsy or cheap in quality,by any means.

Inexpensive durable glasses

Posted by Dana on Jun 2nd 2018

Springs keep glasses secure, lightweight and inexpensive. Fast shipment.

Replacements

Posted by Andrea on Apr 21st 2018

I bought these to replace a pair that the frame around the lenses broke. Could not find a replacement in local area. Like the close fit on the side of your face ; could wish for better fit on the nose. Like the lenses size and over all look of the glasses.
Over all satisfied with my purchase.

These can't be beat!

Posted by Nisey63 on Jul 14th 2017

I ordered several pairs of these in different colors a couple years ago and of all the reading glasses I've purchased, these have held up the best and are the most comfortable to wear for extended periods. I've recently broken several of my cheaper pairs and decided to replace them with these. Oh, and...they're very fashionable! Love 'em! :) And the shipping was SUPER fast!

best readers for every room in the house

Posted by lynne on Jan 6th 2017

These readers are amazing...accurate strength...and the price is right...can't get anything above 2.75 in NY so this is MY site for readers...have been a customer for several years and will continue...thank you for your care which goes above and beyond...great co. to deal with....

Great for the price

Posted by enizo on Feb 24th 2016

Out of the 6 pairs I ordered these are one of the best.
Customers also viewed