Small Acrylic Readers Special Deal
Small Acrylic Readers Special Deal

Product Description
SMALL LENS Acrylic Reading Glasses
4 Pairs for Only $8.00!
You'll receive 4 readers in assorted colors.
Easily Fits in Pocket or Purse
Weight: 0.03 oz
Total Frame width: 5"
Lens width: 2"
Lens height: 3/4"
Arm Length: 5 1/4"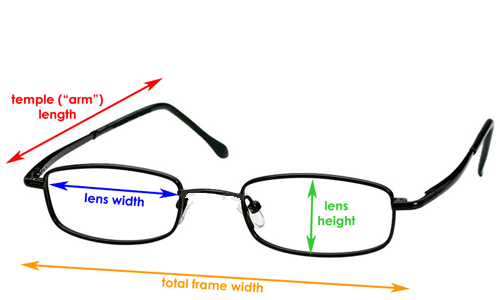 Warranty Information
Our NO NONSENSE return or exchange policy is 30 days for reading glasses, no questions asked.
Find Similar Products by Tag
Product Reviews
Great little Readers

Posted by Unknown on Jan 28th 2019

These readers are great! Perfect to pop on and off as needed and the price cannot be beat! THE clear FRAMES get constant compliments from people!

Great!

Posted by Norm on Sep 13th 2018

Just got a set and they rock. Light and cool looking. And only two bucks each! Am ordering two more sets today.

Can't live without them.

Posted by Ron on Aug 24th 2018

These readers are awesome. Cheap, light and unique. People constantly ask me where I got them. I prefer the clear, but they AL look great. I keep the everywhere.

attractive

Posted by Unknown on Jun 27th 2018

Prefer completely clear frame but these seem to be quality frames. Holding up well so far. Lenses are clear and frames comfortable.

great value

Posted by rkossr@gmail.com on Jun 16th 2018

just right size

love them!!!!

Posted by Unknown on Apr 6th 2018

Best readers ever. So lightweight!

The Best...

Posted by Margie Sparkman on Apr 12th 2016

Though the glasses are a little larger than I'd like, they are the best I've been able to find. The magnification seems to be correct. I've been wearing one pair for over 2 weeks with no sign of wear...no scratching. I ordered/want clear and this fits my needs.

Simple, Cheap, Handy

Posted by George Harrison on Oct 2nd 2015

I have been using these very inexpensive readers for a few years now. They are cheap enough that i have numerous pairs so that I always have a pair within reach. They are a very simple design and don't call attention to them selves which I like. They will scratch but they are cheap enough that i'll just throw them out when this happens. Also they are very comfortable so I can wear them for long periods of time without difficulty.
Customers also viewed